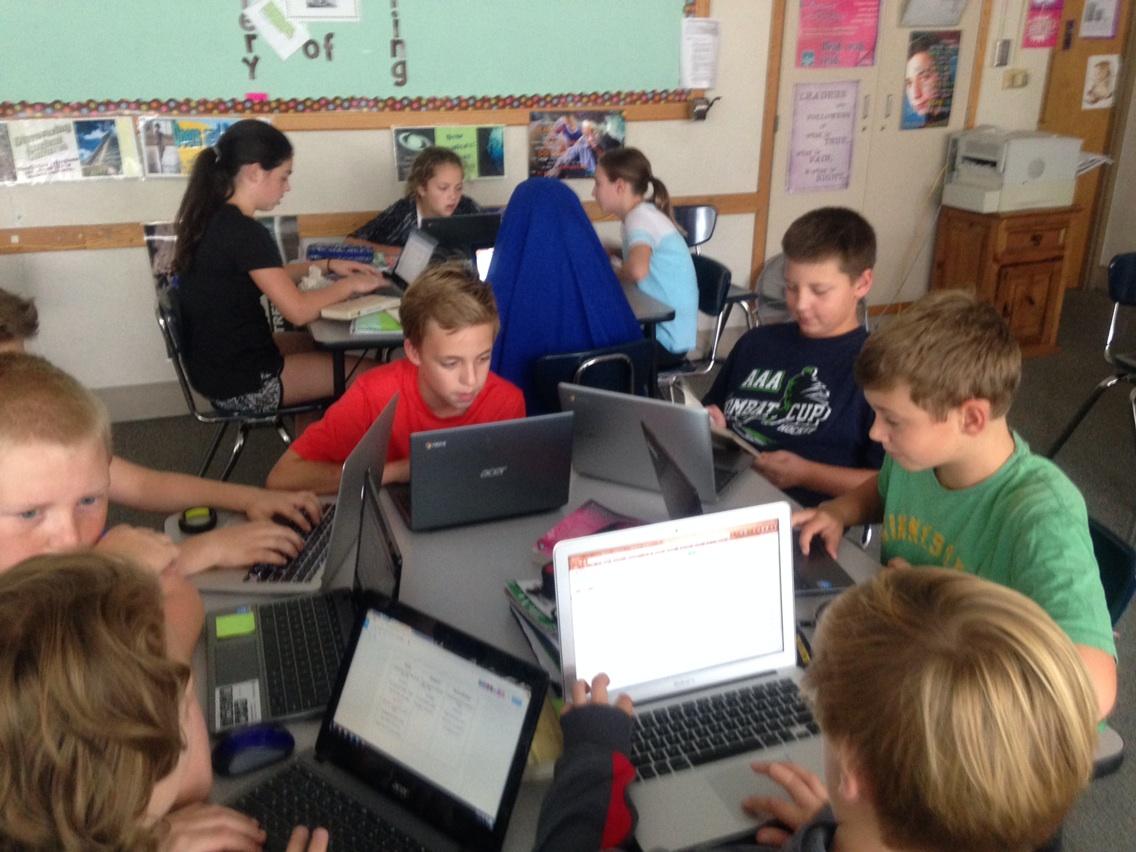 Collaboration at South View MS-Courtesy @lakesmpls
Earlier this week I sent out a survey to our students, getting feedback on our eLearning2 Digital Age Learning initiative. As outlined my post from yesterday, we have moved to 1:1 this year through a hybrid BYOD system, where students are encouraged to bring a device from home, or check one out from the district.
One of the questions I asked in the survey was:
How has using your device impacted your learning this year?
Most students responded positively, with stories of "being more organized," appreciating accessing content in our Moodle learning management system, collaborating on Google Docs, and creating projects for a global audience. I was pleased to see all aspects of our digital age learning framework being addressed.
There was one response, from an 8th grade student named Annika, that stood out from the rest. She graciously gave me permission to share it in this post.She began by mentioning things that most of her peers had said:
I find it helpful in some ways, like the ability to work on online assignments through Moodle during school hours, and since more people have access to devices, you can work in class for projects needing the computer. You also can use the Web 2.0 tools more often for projects, which is also nice.

Then she noted something that I haven't necessarily thought of as a "problem:"
Some problems I have though are that it kind of defeats the purpose of the computer labs... Students will only be going to the labs for standardized testing.
I have been saying for years that "going to the computer lab to do technology projects is not authentic. It's better to get the technology out right in the room when it is needed, and put it away when it isn't. Going to the lab takes time away from the lesson and implies that technology only happens in a certain room in the building." It's one of the main reasons I have advocated for us to be 1:1.
But then Annika continued...
I also find that school is changing all so much, I remember elementary school when it was always fun getting to go to the media center to work on computer projects, it felt like a little treat, and Internet usage was used respectfully more often than not, because

it was a gift to get the time to use the computers, but now that it's just here, and it's now an everyday thing, it's not so special, and having it there so often makes it tend to be a distraction to some students, and ends up being used disrespectfully at times

. I believe this is more of a personal problem on my part, but I do feel like I should share this with you.
Annika's thoughtful response was a new twist on the "lab" idea, that I hadn't considered. To my way of thinking, we needed to "blow up" the labs, or at least repurpose them for other things. It hadn't made the connection between the lab being a "treat," and thus devices used more responsibly.
Earlier this week, Dean Shareski wrote about "Putting the Laptops Away," during class. Here the week we had finally become 1:1, someone I respect was saying to put the devices away! Perfect timing! But in the post, Dean notes this:
This is about recognizing what types of learning you are doing in class and when technology makes it richer and when it dilutes.
I still believe in what Chris Lehmann says about technology,
"It should be like oxygen: ubiquitous, invisible, and necessary."
As we progress in our implementation, I hope that our staff and students begin to see when it makes sense to have the devices out, and when it would be better to put them away. As we continue to focus on the learning, the laptop may disappear, but I hope that the "treat" of digital age learning will not!
Thanks, Annika for pushing my thinking.