The State of Minnesota Department of Education has a state-wide license for Geographical Information Systems. On September 27th, I had a chance to attend a training at MDE to learn more.
Applications:
In social studies, Substrand 1 on Geospacial Skills, have two standards where technology is embeded. Students are to formulate questions on topics in geography and use geospatial technology to analyze problems and make decisions within a spatial context. GIS is a great tool for this.
Authentic problems, like transportation and flooding can be addressed.
In science, students are to use maps, satellite images and other data sets to describe pattersn and make predictions about natural systems in a life science context. Students could use GIS to use online data sets to compare wildlife populations or water quality within Minnesota.
Sara Damon, a social studies teacher from Stillwater Public Schools talked about Spatial Thinking with Geotechnologies. Sheis a strong advocate for real-world tools to prepare our students.
She began by talking about thinking spatially. How people places and phenomena are laid out, organized.
"Put maps in front of your students, no matter what you teach!" "There is a geography to everything!" A Facebook connections map can tell you a lot.
This ties in to the geographic inquiry process :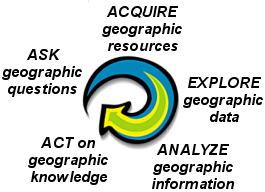 Geospacial technologies are
GIS (Geographic Information Systems)
Virtual globes (Google Earth)

Internet Map and image servers (Organizations like Food Environment Atlas, The World Bank, MLA)

Desktop GIS-"If you want to be the wizard behind the curtain!" (Challenging, but your students CAN do it!!)
Global Positioning Systems

Remote Sensing
Damon shared this video from the Geospatial Revolution Project at Penn State University on applications:
Students at Stillwater have used GIS data to analyze where cell phone towers are in the St. Croix valley, map the tree inventory in the school forest, map bluebird houses in the Lake Elmo Park Reserve, and FireWise Communities a program designed to reduce wild fires nationally and in Minnesota.
Look at ways you can use this as a service project for your community!
She uses ArcGIS online map viewer to look at census data, look at boundary disputes around the world, and working with "Community Analyst" to pick locations new grocery stores in her community.
Story Maps allow you to use GIS to tell digital stories. She hopes to do a project this year with her AP Geography students after taking the exam in May. She hasn't used this yet, but knows that with some persistence, and working together with her students, she knows she will figure it out! Learning is messy sometimes, but she knows she'll be able to figure it out!
She finished by talking about her Global Service Learning Project, where she has invited one of the "Lost Boys of Sudan," to come speak to her class, and then the students create a service learning project around it. Her students have raised over $41,000 for the H2O for Life organization over the last 4 years. There is more to this than just an academic exercise!
The state license for Minnesota is the desktop version of ArcGIS, but you also get access to all of the online tools. She uses the Map Viewer along with the Explorer Online most often.
She suggests beginning with presentations and demonstrations, move into scripted activities, then expand on the script, create a directed project, and finally move to student directed activities.
Damon's wiki has lots of useful resources and hands-on activities. Definitely a great place to start and worth checking out! You can also check out some great examples of classroom use at the GeoJourneysGIS wiki.
I appreciated this presentation both for the content, and Damon's passion for learning and attitude towards technology.
We were then led on an activity where we used the online GIS version to pull data on the Minnesota river, and then add that data to a map, and change the size of the data points based on nitrates in the water. We could then look at questions such as:
What patterns do you see?
What factors could cause these?
View Larger Map
This is a great way for inquiry to happen in the classroom, whether it be social studies, science, math, etc. For those looking for ways integrating technology can truly be transformative, and not just substituting low tech for high, this is a great place to start! I'm excited to see what devices the online version will support. (

UPDATE:

Doug Paulson from MDE said that the online version DOES work on Chromebooks, and there is a pretty good Android App, but the iOS App is currently very limiting.)
After some time for collaboration among the educators here, we discussed the great authentic learning opportunities with real data, opportunities for collaboration among distant classrooms to compare and contrast data, is huge. Scaffolding is important, but elementary students could use Zip Codes, prior to learning latitude and longitude, and still use these tools.
In Minnesota, you can set up your account on the MDE Website set up for creating accounts with ESRI. You can also attend GeoFest at Macalester College to learn more.